Zerboni Andrea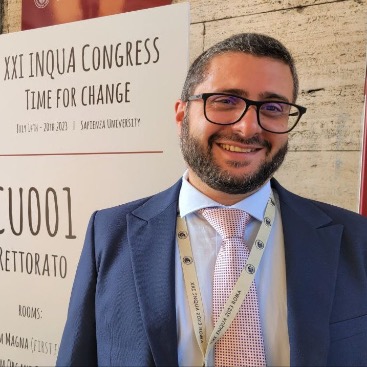 Associate Professor
SSD
GEO/04 - PHYSICAL GEOGRAPHY AND GEOMORPHOLOGY
Competition sector
04/A3 - ENGINEERING GEOLOGY, PHYSICAL GEOGRAPHY AND GEOMORPHOLOGY
Research fields and competencies
Office
Dipartimento di Scienze della Terra "Ardito Desio", Via L. Mangiagalli 34, 20133 Milano
Teaching - Programme courses
A.Y. 2020/2021
Humanities area specialization school
A.Y. 2019/2020
Humanities area specialization school
A.Y. 2018/2019
Research
Publications
Loess landscapes of Europe – Mapping, geomorphology, and zonal differentiation / F. Lehmkuhl, J.J. Nett, S. Pötter, P. Schulte, T. Sprafke, Z. Jary, P. Antoine, L. Wacha, D. Wolf, A. Zerboni, J. Hošek, S.B. Marković, I. Obreht, P. Sümegi, D. Veres, C. Zeeden, B. Boemke, V. Schaubert, J. Viehweger, U. Hambach. - In: EARTH-SCIENCE REVIEWS. - ISSN 0012-8252. - (2020 Dec 28). [Epub ahead of print]

Green, blue, or brown? Storia olocenica del deserto del Sahara / A. Zerboni, M. Cremaschi. - In: GEOLOGICAMENTE. - ISSN 2705-0149. - 2020:3(2020 Nov), pp. 38-47.

Rock art survey in the ancient oasis of Salūt (northern Sultanate of Oman) : a variegated iconographic record / M. Degli Esposti, M. Cremaschi, A. Zerboni. - In: ARABIAN ARCHAEOLOGY AND EPIGRAPHY. - ISSN 0905-7196. - :31(2020 Sep 29), pp. 327-351.

Field-based sciences must transform in response to COVID-19 / E.M.L. Scerri, D. Kühnert, J. Blinkhorn, H.S. Groucutt, P. Roberts, K. Nicoll, A. Zerboni, E.A. Orijemie, H. Barton, I. Candy, S.T. Goldstein, J. Hawks, K. Niang, D. N'Dah, M.D. Petraglia, N.C. Vella. - In: NATURE ECOLOGY & EVOLUTION. - ISSN 2397-334X. - 4(2020 Sep 14), pp. 1571-1574.

Surface Geomorphological Features of Deep-Seated Gravitational Slope Deformations : A Look to the Role of Lithostructure (N Apennines, Italy) / G.S. Mariani, A. Zerboni. - In: GEOSCIENCES. - ISSN 2076-3263. - 10(2020 Aug 22), pp. 334.1-334.19.