Albanese Domenico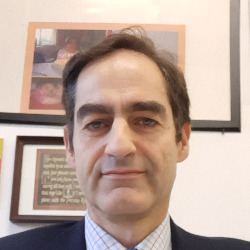 Tenured Associate Professor
SSD
CHIM/04 - INDUSTRIAL CHEMISTRY
Competition sector
03/C2 - INDUSTRIAL AND APPLIED CHEMISTRY
Research fields and competencies
Teaching - Programme courses
Research
Publications
Enantioselective Synthesis of 3,4-Dihydropyran-2-ones via Phase-Transfer-Catalyzed Addition-Cyclization of Acetylacetone to Cinnamic Thioesters / D. Destro, C. Bottinelli, L. Ferrari, D.C.M. Albanese, G. Bencivenni, M.W. Gillick-Healy, B.G. Kelly, M.F.A. Adamo. - In: JOURNAL OF ORGANIC CHEMISTRY. - ISSN 0022-3263. - (2020). [Epub ahead of print]

Phase Transfer Catalysis / D.C.M. Albanese, M. Penso - In: Kirk-Othmer Encyclopedia of Chemical TechnologyPrima edizione. - [s.l] : Wiley, 2020. - ISBN 9780471484943.

Chemical constituents and HRESI-​MS analysis of an Algerian endemic plant - Verbascum atlanticum Batt. - extracts and their antioxidant activity / H. Khentoul, C. Bensouici, F. Reyes, D. Albanese, D. Sarri, M. Ratiba, B. Fadila, R. Seghiri, O. Boumaza. - In: NATURAL PRODUCT RESEARCH. - ISSN 1478-6419. - (2019 Apr 22). [Epub ahead of print]

A concise, practical synthesis of 2,3-dihydro-1,5-benzothiazepines / D. Albanese. ((Intervento presentato al convegno Euro Chemistry Conference tenutosi a Roma nel 2018.

An overview on the N-heterocyclic carbene-catalyzed Aza-Benzoin condensation reaction / D.C. Albanese, N. Gaggero. - In: CATALYSTS. - ISSN 2073-4344. - 8:5(2018 May).