Di Marco Fabiano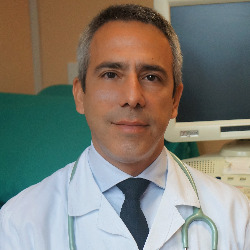 Associate Professor
SSD
MED/10 - RESPIRATORY DISEASES
Competition sector
06/D1 - CARDIOVASCULAR AND RESPIRATORY DISEASES
Research fields and competencies
Teaching - Programme courses
A.Y. 2019/2020
Postgraduate Schools - Medicine, Healthcare, Dental Medicine
Research
Publications
Macrophage expression and prognostic significance of the long pentraxin PTX3 in COVID-19 / E. Brunetta, M. Folci, B. Bottazzi, M. De Santis, G. Gritti, A. Protti, S.N. Mapelli, S. Bonovas, D. Piovani, R. Leone, I. My, V. Zanon, G. Spata, M. Bacci, D. Supino, S. Carnevale, M. Sironi, S. Davoudian, C. Peano, F. Landi, F. Di Marco, F. Raimondi, A. Gianatti, C. Angelini, A. Rambaldi, C. Garlanda, M. Ciccarelli, M. Cecconi, A. Mantovani. - In: NATURE IMMUNOLOGY. - ISSN 1529-2908. - 22:1(2021), pp. 19-24.

Comorbidities, Cardiovascular Therapies, and COVID-19 Mortality: A Nationwide, Italian Observational Study (ItaliCO) / F. Polverino, D.A. Stern, G. Ruocco, E. Balestro, M. Bassetti, M. Candelli, B. Cirillo, M. Contoli, A. Corsico, F. D'Amico, E. D'Elia, G. Falco, S. Gasparini, S. Guerra, S. Harari, M. Kraft, L. Mennella, A. Papi, R. Parrella, P. Pelosi, V. Poletti, M. Polverino, C. Tana, R. Terribile, J.C. Woods, F. Di Marco, F.D. Martinez. - In: FRONTIERS IN CARDIOVASCULAR MEDICINE. - ISSN 2297-055X. - 7(2020 Oct 09).

Utility and safety of bronchoscopy during the SARS-CoV-2 outbreak in Italy: a retrospective, multicentre study / M. Mondoni, G.F. Sferrazza Papa, R. Rinaldo, P. Faverio, A. Marruchella, F. D'Arcangelo, A. Pesci, S. Pasini, S. Henchi, G. Cipolla, F. Tarantini, L. Giuliani, F. Di Marco, L. Saracino, S. Tomaselli, A. Corsico, S. Gasparini, M. Bonifazi, L. Zuccatosta, L. Saderi, G. Pellegrino, M. Davì, P. Carlucci, S. Centanni, G. Sotgiu. - In: EUROPEAN RESPIRATORY JOURNAL. - ISSN 1399-3003. - 56:4(2020 Oct), pp. 2002767.1-2002767.4.

Efficacy of Benralizumab in severe asthma in real life and focus on nasal polyposis / D. Bagnasco, L. Brussino, M. Bonavia, E. Calzolari, M. Caminati, C. Caruso, M. D'Amato, L. De Ferrari, F. Di Marco, G. Imeri, D. Di Bona, A. Gilardenghi, G. Guida, C. Lombardi, M. Milanese, A. Nicolini, A.M. Riccio, G. Rolla, P. Santus, G. Senna, G. Passalacqua. - In: RESPIRATORY MEDICINE. - ISSN 0954-6111. - 171(2020 Sep).

Today's improvement in asthma treatment: role of MART and Easyhaler / F. Di Marco. - In: MULTIDISCIPLINARY RESPIRATORY MEDICINE. - ISSN 1828-695X. - 15:1(2020 Aug 05), pp. 649.1-649.6.