Triulzi Fabio Maria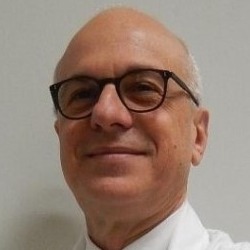 Full professor
SSD
MED/37 - NEURORADIOLOGY
Competition sector
06/I1 - IMAGING, RADIOTHERAPY AND NEURORADIOLOGY
Research fields and competencies
Teaching - Programme courses
A.Y. 2019/2020
Postgraduate Schools - Medicine, Healthcare, Dental Medicine
A.Y. 2018/2019
Postgraduate Schools - Medicine, Healthcare, Dental Medicine
Research
Publications
Optic Nerve Sheath Diameter is not Related to Intracranial Pressure in Subarachnoid Hemorrhage Patients / T. Zoerle, A. Caccioppola, E. D'Angelo, M. Carbonara, G. Conte, S. Avignone, E.R. Zanier, T. Birg, F. Ortolano, F. Triulzi, N. Stocchetti. - In: NEUROCRITICAL CARE. - ISSN 1541-6933. - 33:2(2020 Oct 01), pp. 491-498.

Olfactory Malformations in Mendelian Disorders of the Epigenetic Machinery / S. Aleo, C. Cinnante, S. Avignone, E. Prada, G. Scuvera, P.F. Ajmone, A. Selicorni, M.A. Costantino, F. Triulzi, P. Marchisio, C. Gervasini, D. Milani. - In: FRONTIERS IN CELL AND DEVELOPMENTAL BIOLOGY. - ISSN 2296-634X. - 8(2020 Aug), pp. 710.1-710.8.

Evidence of retinal anterograde neurodegeneration in the very early stages of multiple sclerosis : a longitudinal OCT study / A.M. Pietroboni, T. Carandini, L. Dell'Arti, F. Bovis, A. Colombi, M.A. De Riz, E. Casazza, E. Scola, C. Fenoglio, A. Arighi, G.G. Fumagalli, F. Triulzi, D. Galimberti, F. Viola, E. Scarpini. - In: NEUROLOGICAL SCIENCES. - ISSN 1590-1874. - (2020 Apr 30). [Epub ahead of print]

A case series of CHARGE syndrome : Identification of key features for a neonatal diagnosis / M.F. Bedeschi, B.L. Crippa, L. Colombo, M. Buscemi, C. Rossi, R. Villa, S. Gangi, O. Picciolini, C. Cinnante, V.G.C. Fergnani, P.F. Ajmone, E. Scola, F. Triulzi, F. Mosca. - In: THE ITALIAN JOURNAL OF PEDIATRICS. - ISSN 1720-8424. - 46:1(2020 Apr), pp. 53.1-53.7.

Toward a marker of upper motor neuron impairment in amyotrophic lateral sclerosis : a fully automatic investigation of the magnetic susceptibility in the precentral cortex / V.E. Contarino, G. Conte, C. Morelli, F. Trogu, E. Scola, S.F. Calloni, L.C. Sanmiguel Serpa, C. Liu, V. Silani, F. Triulzi. - In: EUROPEAN JOURNAL OF RADIOLOGY. - ISSN 0720-048X. - 124(2020 Mar), pp. 108815.1-108815.7.