Muttoni Giovanni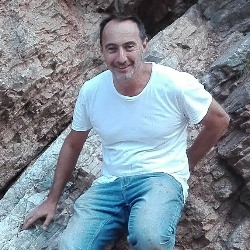 Full professor
SSD
GEO/02 - STRATIGRAPHY AND SEDIMENTOLOGY
Competition sector
04/A2 - STRUCTURAL GEOLOGY, STRATIGRAPHY, SEDIMENTOLOGY AND PALEONTOLOGY
Research fields and competencies
Teaching - Programme courses
Research
Publications
Dating of the Lower Pleistocene Vertebrate Site of Tsiotra Vryssi (Mygdonia Basin, Greece): Biochronology, Magnetostratigraphy, and Cosmogenic Radionuclides / G.E. Konidaris1, D.S. Kostopoulos, M. Maron, M. Schaller, T.A. Ehlers, E. Aidona, M. Marini, V. Tourloukis, G. Muttoni, G.D. Koufos, K. Harvati. - In: QUATERNARY. - ISSN 2571-550X. - 4:1(2021 Jan 08), p. 1.

A detailed record of the C34n/C33r magnetozone boundary for the definition of the base of the Campanian Stage at the Bottaccione section (Gubbio, Italy) / M. Maron, G. Muttoni. - In: NEWSLETTERS ON STRATIGRAPHY. - ISSN 0078-0421. - 54:1(2021 Jan), pp. 107-122.

Proposal for the Global Boundary Stratotype Section and Point (GSSP) for the Priabonian Stage (Eocene) at the Alano section (Italy) / C. Agnini, J. Backman, F. Boscolo-Galazzo, D.J. Condon, E. Fornaciari, S. Galeotti, L. Giusberti, P. Grandesso, L. Lanci, V. Luciani, S. Monechi, G. Muttoni, H. Pälike, M.L. Pampaloni, C.A. Papazzoni, P.N. Pearson, J. Pignatti, I.P. Silva, I. Raffi, D. Rio, L. Rook, D. Sahy, D.J.A. Spofforth, C. Stefani, B.S. Wade. - In: EPISODES. - ISSN 0705-3797. - (2020 Oct 01). [Epub ahead of print]

Pangea B and the Late Paleozoic Ice Age / D.V. Kent, G. Muttoni. - In: PALAEOGEOGRAPHY PALAEOCLIMATOLOGY PALAEOECOLOGY. - ISSN 0031-0182. - 553(2020 Sep 01), pp. 109753.1-109753.20.

Magnetochronology applied to assess tempo of turbidite deposition: A case study of ponded sheet-like turbidites from the lower Miocene of the northern Apennines (Italy) / M. Marini, M. Maron, M.R. Petrizzo, F. Felletti, G. Muttoni. - In: SEDIMENTARY GEOLOGY. - ISSN 0037-0738. - 403(2020 Jun 15), p. 105654.