Bollati Irene Maria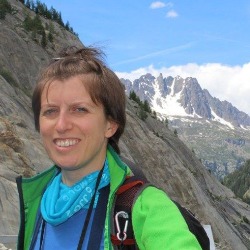 Fixed-term Research Fellow B
SSD
GEO/04 - PHYSICAL GEOGRAPHY AND GEOMORPHOLOGY
Competition sector
04/A3 - ENGINEERING GEOLOGY, PHYSICAL GEOGRAPHY AND GEOMORPHOLOGY
Research fields and competencies
Teaching - Programme courses
Research
Publications
Soils as a useful tool for reconstructing geomorphic dynamics in high mountain environments: The case of the Buscagna stream hydrographic basin (Lepontine Alps) / A. Masseroli, I.M. Bollati, S.S. Proverbio, M. Pelfini, L. Trombino. - In: GEOMORPHOLOGY. - ISSN 0169-555X. - 371(2020 Dec 15).

Reconsidering the compound effect of geomorphology, vegetation, and climate change on paleopedogenesis in sensitive environments (Northern Apennines, Italy) / A. Masseroli, S. Villa, G.S. Mariani, I.M. Bollati, M. Pelfini, D. Sebag, E.P. Verrecchia, L. Trombino. - In: CATENA. - ISSN 0341-8162. - 197(2020 Oct).

Weather Simulation of Extreme Precipitation Events Inducing Slope Instability Processes over Mountain Landscapes / A. Golzio, I.M. Bollati, M. Luciani, M. Pelfini, S. Ferrarese. - In: APPLIED SCIENCES. - ISSN 2076-3417. - 10:12(2020 Sep 20).

A multidisciplinary approach for physical landscape analysis: scientific value and risk of degradation of outstanding landforms in the glacial plateau of the Loana Valley (Central-Western Italian Alps) / I.M. Bollati, B. Crosa Lenz, V. Caironi. - In: ITALIAN JOURNAL OF GEOSCIENCES. - ISSN 2038-1719. - 139:2(2020 Jun), pp. 233-251.

Fieldtrips and Virtual Tours as Geotourism Resources: Examples from the Sesia Val Grande UNESCO Global Geopark (NW Italy) / L. Perotti, I.M. Bollati, C. Viani, E. Zanoletti, V. Caironi, M. Pelfini, M. Giardino. - In: RESOURCES. - ISSN 2079-9276. - 9:6(2020 May 29).