Calabresi Laura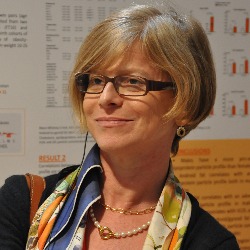 Full professor
SSD
BIO/14 - PHARMACOLOGY
Competition sector
05/G1 - PHARMACOLOGY, CLINICAL PHARMACOLOGY AND PHARMACOGNOSY
Research fields and competencies
Head of Interdepartmental Study Programme
Teaching - Programme courses
Research
Publications
Genetic, biochemical, and clinical features of LCAT deficiency: update for 2020 / C. Pavanello, L. Calabresi. - In: CURRENT OPINION IN LIPIDOLOGY. - ISSN 0957-9672. - 31:4(2020 Aug), pp. 232-237.

Low Plasma Lecithin : Cholesterol Acyltransferase (LCAT) Concentration Predicts Chronic Kidney Disease / A. Baragetti, A. Ossoli, A. Strazzella, S. Simonelli, I. Baragetti, L. Grigore, F. Pellegatta, A. Catapano, G. Norata, L. Calabresi. - In: JOURNAL OF CLINICAL MEDICINE. - ISSN 2077-0383. - 9(2020 Jul 18), pp. 2289.1-2289.13.

The Prospective Studies of Atherosclerosis (Proof-ATHERO) Consortium : Design and Rationale / L. Tschiderer, L. Seekircher, G. Klingenschmid, R. Izzo, D. Baldassarre, B. Iglseder, L. Calabresi, J. Liu, J.F. Price, J. Bae, F.P. Brouwers, E. de Groot, C. Schmidt, G. Bergström, G. Aşçi, P. Gresele, S. Okazaki, K. Kapellas, M.F. Landecho, N. Sattar, S. Agewall, Z. Zou, C.D. Byrne, P.W.B. Nanayakkara, A. Papagianni, M.D. Witham, E. Bernal, R. Ekart, M.A. van Agtmael, M.F. Neves, E. Sato, M. Ezhov, M. Walters, M.H. Olsen, R. Stolić, D.A. Zozulińska-Ziółkiewicz, M. Hanefeld, D. Staub, M. Nagai, P.T. Nieuwkerk, M.V. Huisman, A. Kato, H. Honda, G. Parraga, D. Magliano, R. Gabriel, T. Rundek, M.A. Espeland, S. Kiechl, J. Willeit, L. Lind, J.P. Empana, E. Lonn, T. Tuomainen, A. Catapano, K. Chien, D. Sander, M. Kavousi, J.W.J. Beulens, M.L. Bots, M.J. Sweeting, M.W. Lorenz, P. Willeit. - In: GERONTOLOGY. - ISSN 0304-324X. - (2020 Jul 01). [Epub ahead of print]

LIPA gene mutations affect the composition of lipoproteins: Enrichment in ACAT-derived cholesteryl esters / L. Arnaboldi, A.F. OSSOLI, E. GIORGIO, L. Pisciotta, T. Lucchi, L. Grigore, C. PAVANELLO, A.C. GRANATA, A. Pasta, B. Arosio, D. AZZOLINO, A. BARAGETTI, S. Castelnuovo, A. CORSINI, A.L. Catapano, L. CALABRESI, M. GOMARASCHI. - In: ATHEROSCLEROSIS. - ISSN 0021-9150. - 297(2020 Mar), pp. 8-15.

Rare dyslipidaemias, from phenotype to genotype to management: a European Atherosclerosis Society task force consensus statement / R.A. Hegele, J. Boren, H.N. Ginsberg, M. Arca, M. Averna, C.J. Binder, L. Calabresi, M.J. Chapman, M. Cuchel, A. von Eckardstein, R. Frikke-Schmidt, D. Gaudet, G.K. Hovingh, F. Kronenberg, D. Lutjohann, K.G. Parhofer, F.J. Raal, K.K. Ray, A.T. Remaley, J.K. Stock, E.S. Stroes, L. Tokgozoglu, A.L. Catapano. - In: THE LANCET DIABETES & ENDOCRINOLOGY. - ISSN 2213-8587. - 8:1(2020 Jan), pp. 50-67.