Proietti Marco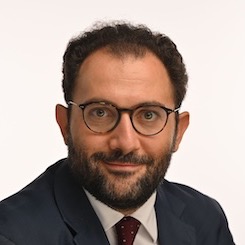 Fixed-term Research Fellow A
SSD
MED/09 - INTERNAL MEDICINE
Competition sector
06/B1 - INTERNAL MEDICINE
Research fields and competencies
Teaching - Programme courses
A.Y. 2019/2020
Postgraduate Schools - Medicine, Healthcare, Dental Medicine
A.Y. 2018/2019
Postgraduate Schools - Medicine, Healthcare, Dental Medicine
Research
Publications
COVID-19 network : the response of an Italian reference Institute to research challenges about a new pandemia / A. Bandera, S. Aliberti, R. Gualtierotti, M. Baldini, F. Blasi, M. Cesari, G. Costantino, A.L. Fracanzani, A. Gori, N. Montano, V. Monzani, A. Nobili, F. Peyvandi, A. Pesenti, D. Prati, L. Valenti, G. Fusetti, L. Scudeller, S. Bosari, L. Rusconi, S. Dell Orto, G. Lamorte, M. Manunta, G. Baselli, L. Santoro, A. Muscatello, D. Mangioni, L. Alagna, G. Bozzi, A. Lombardi, R. Ungaro, T. Itri, V. Ferroni, V. Pastore, R. Massafra, I. Rondolini, B. Ferrari, R. Rossio, E. Corona, N. Rampi, C. Massimo, B. Vigone, C. Bellocchi, E. Fiorelli, V. Melli, E. Tobaldini, M. Spotti, E. Simonetta, L. Terranova, F. Amati, C. Miele, S. Misuraca, A. D'Adda, S. Della Fiore, M. Di Pasquale, M.M.M. Contarini, M. Ori, L. Morlacchi, V. Rossetti, A. Gramegna, M. Pappalettera, M. Cavallini, A. Vigni, M. Vicenzi, I. Rota, M. Solbiati, L. Furlan, M. Mancarella, G. Colombo, A. Fanin, A. Rovellini, L. Barbetta, F. Billi, C. Folli, I. Otta, N. Scaramellini, R. Lombardi, F. Iuculano, M. Proietti, L. Calcaterra, M. Tettamanti, I. Monti. - In: CLINICAL MICROBIOLOGY AND INFECTION. - ISSN 1198-743X. - (2020 Jun 30). [Epub ahead of print]

The Euro Heart Survey and EURObservational Research Programme (EORP) in atrial fibrillation registries : contribution to epidemiology, clinical management and therapy of atrial fibrillation patients over the last 20 years / M. Vitolo, M. Proietti, S. Harrison, D.A. Lane, T.S. Potpara, G. Boriani, G.Y.H. Lip. - In: INTERNAL AND EMERGENCY MEDICINE. - ISSN 1828-0447. - (2020 Jun 15), pp. 1-10. [Epub ahead of print]

Clinical features and management of venous thromboembolism in patients with Behçet's syndrome : a single-center case–control study / N. Toledo-Samaniego, F. Galeano-Valle, B. Pinilla-Llorente, J. Del-Toro-Cervera, A. Marra, M. Proietti, P. Demelo-Rodriguez. - In: INTERNAL AND EMERGENCY MEDICINE. - ISSN 1828-0447. - 15:4(2020 Jun), pp. 635-644.

Comprehensive Management With the ABC (Atrial Fibrillation Better Care) Pathway in Clinically Complex Patients With Atrial Fibrillation: A Post Hoc Ancillary Analysis From the AFFIRM Trial / M. Proietti, G.F. Romiti, B. Olshansky, D.A. Lane, G.Y.H. Lip. - In: JOURNAL OF THE AMERICAN HEART ASSOCIATION. CARDIOVASCULAR AND CEREBROVASCULAR DISEASE. - ISSN 2047-9980. - 9:10(2020 May 18).

Compliance of Atrial Fibrillation Treatment with the Atrial Fibrillation Better Care (ABC) Pathway Improves the Clinical Outcomes in the Middle East Population: A Report from the Gulf Survey of Atrial Fibrillation Events (SAFE) Registry / J. Gumprecht, M. Domek, M. Proietti, Y. Li, N. Asaad, W. Rashed, A. Alsheikh-Ali, M. Zubaid, G.Y.H. Lip. - In: JOURNAL OF CLINICAL MEDICINE. - ISSN 2077-0383. - 9:5(2020 May).