Pasquali Matias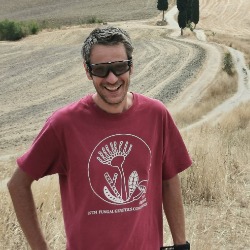 Associate Professor
SSD
AGR/12 - PLANT PATHOLOGY
Competition sector
07/D1 - PLANT PATHOLOGY AND ENTOMOLOGY
Research fields and competencies
Teaching - Programme courses
A.Y. 2020/2021
A.Y. 2019/2020
Research
Publications
Searching for biological control agents of Ailanthus altissima / E. Calastri, V. Tava, A. Kunova, C. Pizzatti, M. Pasquali, P. Cortesi, M. Saracchi. - In: PHYTOPATHOLOGY. - ISSN 0031-949X. - 110:12S(2020 Dec), pp. S2.142-S2.142. ((Intervento presentato al convegno APS Annual Meeting - Plant Health 2020 nel 2020.

Investigating Useful Properties of Four Streptomyces Strains Active against Fusarium graminearum Growth and Deoxynivalenol Production on Wheat Grains by qPCR / E.M. Colombo, A. Kunova, C.S. Gardana, C. Pizzatti, P. Simonetti, P. Cortesi, M. Saracchi, M. Pasquali. - In: TOXINS. - ISSN 2072-6651. - 12:9(2020 Aug 31), pp. 560.1-560.17.

Global Geographic Distribution and Host Range of Fusarium circinatum, the Causal Agent of Pine Pitch Canker / R. Drenkhan, B. Ganley, J. Martín-García, P. Vahalík, K. Adamson, K. Adamčíková, R. Ahumada, L. Blank, H. Bragança, P. Capretti, M. Cleary, C. Cornejo, K. Davydenko, J.J. Diez, H.T.D. Lehtijärvi, M. Dvořák, R. Enderle, G. Fourie, M. Georgieva, L. Ghelardini, J. Hantula, R. Ioos, E. Iturritxa, L. Kanetis, N.N. Karpun, A. Koltay, E. Landeras, S. Markovskaja, N. Mesanza, I. Milenković, D.L. Musolin, K. Nikolaou, J.A. Nowakowska, N. Ogris, F. Oskay, T. Oszako, I. Papazova-Anakieva, M. Paraschiv, M. Pasquali, F. Pecori, T. Rafoss, K. Raitelaitytė, R. Raposo, C. Robin, C.A. Rodas, A. Santini, A.V. Sanz-Ros, A.V. Selikhovkin, A. Solla, M. Soukainen, N. Soulioti, E.T. Steenkamp, P. Tsopelas, A. Vemić, A.M. Vettraino, M.J. Wingfield, S. Woodward, C. Zamora-Ballesteros, M.S. Mullett. - In: FORESTS. - ISSN 1999-4907. - 11:7(2020 Jul 01), pp. 724.1-724.40.

Diversity of Mobile Genetic Elements in the Mitogenomes of Closely Related Fusarium culmorum and F. graminearum sensu stricto Strains and Its Implication for Diagnostic Purposes / T. Kulik, B. Brankovics, A.D. van Diepeningen, K. Bilska, M. Żelechowski, K. Myszczyński, T. Molcan, A. Stakheev, S. Stenglein, M. Beyer, M. Pasquali, J. Sawicki, J. Wyrȩbek, A. Baturo-Cieśniewska. - In: FRONTIERS IN MICROBIOLOGY. - ISSN 1664-302X. - 11(2020 May 25), pp. 1002.1-1002.14.

Occurence of deoxynivalenol in beers commercialized in Italy / M. Grumi, A. Kunova, M. Isotti, A. Barbiroli, M. Pasquali. - In: ITALIAN JOURNAL OF FOOD SCIENCE. - ISSN 1120-1770. - 32:3(2020 Apr 28), pp. 712-720.