Paroni Rita Clara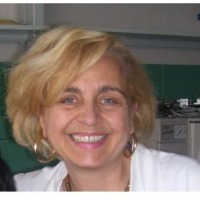 Associate Professor
SSD
BIO/12 - CLINICAL BIOCHEMISTRY AND MOLECULAR BIOLOGY
Competition sector
05/E3 - CLINICAL BIOCHEMISTRY AND MOLECULAR BIOLOGY
Research fields and competencies
Teaching - Programme courses
A.Y. 2019/2020
Postgraduate Schools - Medicine, Healthcare, Dental Medicine
A.Y. 2018/2019
Postgraduate Schools - Medicine, Healthcare, Dental Medicine
Research
Publications
A straightforward LC-MS/MS analysis to study serum profile of short and medium chain fatty acids / M. Dei Cas, R. Paroni, A. Saccardo, E. Casagni, S. Arnoldi, V. Gambaro, M. Saresella, M. Clerici, F. La Rosa, I. Marventano, F. Piancone, G. Roda. - In: JOURNAL OF CHROMATOGRAPHY. B. - ISSN 1570-0232. - 1154(2020 Oct 01), pp. 121982.1-121982.6.

Patients with Essential Thrombocythemia may be Poor Responders to Enteric-Coated Aspirin, but not to Plain Aspirin / M. Scavone, J. Rizzo, E.A. Femia, G.M. Podda, E. Bossi, S. Caberlon, R. Paroni, M. Cattaneo. - In: THROMBOSIS AND HAEMOSTASIS. - ISSN 0340-6245. - 120(2020 Oct), pp. 1442-1453.

Relationship between Fatty Acids Composition/Antioxidant Potential of Breast Milk and Maternal Diet : Comparison with Infant Formulas / M. Codini, C. Tringaniello, L. Cossignani, A. Boccuto, A. Mirarchi, L. Cerquiglini, S. Troiani, G. Verducci, F.F. Patria, C. Conte, S. Cataldi, M.R. Ceccarini, R. Paroni, M. Dei Cas, T. Beccari, F. Curcio, E. Albi. - In: MOLECULES. - ISSN 1420-3049. - 25:12(2020 Jun 24), pp. 2910.1-2910.18.

An Innovative Lipidomic Workflow to Investigate the Lipid Profile in a Cystic Fibrosis Cell Line / M. Dei Cas, A. Zulueta, A. Mingione, A. Caretti, R. Ghidoni, P. Signorelli, R. Paroni. - In: CELLS. - ISSN 2073-4409. - 9:5(2020 May 12).

Myriocin Effect on Tvrm4 Retina, an Autosomal Dominant Pattern of Retinitis Pigmentosa / I. Piano, V. D'Antongiovanni, E. Novelli, M. Biagioni, M. Dei Cas, R.C. Paroni, R. Ghidoni, E. Strettoi, C. Gargini. - In: FRONTIERS IN NEUROSCIENCE. - ISSN 1662-4548. - 14(2020 May), pp. 372.1-372.12.