Ambrosini Roberto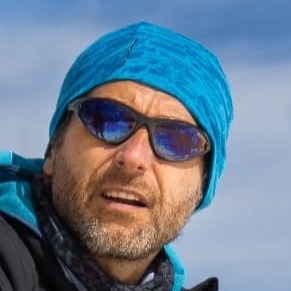 Associate Professor
Competition sector
05/C1 - ECOLOGY
Research fields and competencies
Tuesday 10-12 am by appointment to be requested via email a few days before
Office
tower C, 6th floor, Via Celoria 26
Teaching - Programme courses
A.Y. 2020/2021
A.Y. 2019/2020
A.Y. 2018/2019
Research
Publications
Ecology of the cold-adapted species Nebria germari (Coleoptera: Carabidae): the role of supraglacial stony debris as refugium during the current interglacial period / B. Valle, R. Ambrosini, M.S. Caccianiga, M. Gobbi. - (2020 Nov). ((Intervento presentato al 19. convegno European Carabidologist Meeting tenutosi a Fiera di Primiero nel 2019.

Early ecological succession patterns of bacterial, fungal and plant communities along a chronosequence in a recently deglaciated area of the Italian Alps / A. Franzetti, F. Pittino, I. Gandolfi, R.S. Azzoni, G. Diolaiuti, C. Smiraglia, M. Pelfini, C. Compostella, B. Turchetti, P. Buzzini, R. Ambrosini. - In: FEMS MICROBIOLOGY ECOLOGY. - ISSN 0168-6496. - 96:10(2020 Oct), pp. fiaa165.-fiaa165.1.

A hole in the nematosphere: tardigrades and rotifers dominate the cryoconite hole environment, whereas nematodes are missing / K. Zawierucha, D.L. Porazinska, G.F. Ficetola, R. Ambrosini, G. Baccolo, J. Buda, J.L. Ceballos, M. Devetter, R. Dial, A. Franzetti, U. Fuglewicz, L. Gielly, E. Lokas, K. Janko, T. Novotna Jaromerska, A. Koscinski, A. Kozlowska, M. Ono, I. Parnikoza, F. Pittino, E. Poniecka, P. Sommers, S.K. Schmidt, D. Shain, S. Sikorska, J. Uetake, N. Takeuchi. - In: JOURNAL OF ZOOLOGY. - ISSN 0952-8369. - (2020 Sep 19). [Epub ahead of print]

Extra food provisioning reduces extra‐pair paternity in the lesser kestrel Falco naumanni / A. Costanzo, N. Tommasi, A. Galimberti, G.C. Scesa, R. Ambrosini, M. Griggio, J.G. Cecere, D. Rubolini. - In: JOURNAL OF AVIAN BIOLOGY. - ISSN 0908-8857. - 51:9(2020 Sep).

Plant-microorganisms interaction promotes removal of air pollutants in Milan (Italy) urban area / A. Franzetti, I. Gandolfi, G. Bestetti, E. Padoa Schioppa, C. Canedoli, D. Brambilla, D. Cappelletti, B. Sebastiani, E. Federici, M. Papacchini, R. Ambrosini. - In: JOURNAL OF HAZARDOUS MATERIALS. - ISSN 0304-3894. - 384(2020 Feb 15).