Minucci Saverio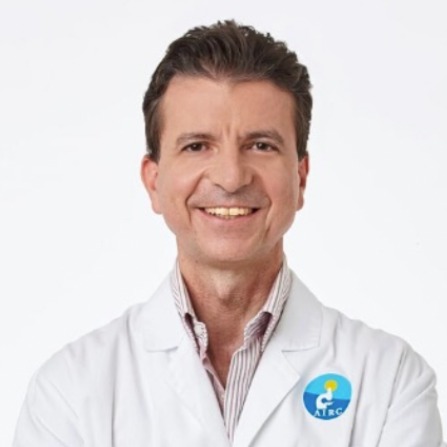 Full professor
SSD
MED/04 - EXPERIMENTAL MEDICINE AND PATHOPHYSIOLOGY
Competition sector
06/A2 - EXPERIMENTAL MEDICINE, PATHOPHYSIOLOGY AND CLINICAL PATHOLOGY
Research fields and competencies
Teaching - Programme courses
Research
Publications
MicroRNA-222 Regulates Melanoma Plasticity / M.C. Lionetti, F. Cola, O. Chepizhko, M. Rita Fumagalli, F. Font Clos, R. Ravasio, S. Minucci, P. Canzano, M. Camera, G. Tiana, S. Zapperi, C.A.M. La Porta. - In: JOURNAL OF CLINICAL MEDICINE. - ISSN 2077-0383. - 9:8(2020 Aug 08).

Combination of Hypoglycemia and Metformin Impairs Tumor Metabolic Plasticity and Growth by Modulating the PP2A-GSK3β-MCL-1 Axis / M. Elgendy, M. Ciro, A. Hosseini, J. Weiszmann, L. Mazzarella, E. Ferrari, R. Cazzoli, G. Curigliano, A. Decensi, B. Bonanni, A. Budillon, P.G. Pelicci, V. Janssens, M. Ogris, M. Baccarini, L. Lanfrancone, W. Weckwerth, M. Foiani, S. Minucci. - In: CANCER CELL. - ISSN 1535-6108. - 35:5(2019 May 13), pp. 798-815.e5.

Epigenomic profiling of archived FFPE tissues by enhanced PAT-ChIP (EPAT-ChIP) technology / S. Amatori, G. Persico, C. Paolicelli, R. Hillje, N. Sahnane, F. Corini, D. Furlan, L. Luzi, S. Minucci, M. Giorgio, P.G. Pelicci, M.C. Fanelli. - In: CLINICAL EPIGENETICS. - ISSN 1868-7083. - 10:1(2018 Nov 16).

Phosphorylation of SOS1 on tyrosine 1196 promotes its RAC GEF activity and contributes to BCR-ABL leukemogenesis / S. Gerboth, E. Frittoli, A. Palamidessi, F.C. Baltanas, M. Salek, J. Rappsilber, C. Giuliani, F. Troglio, Y. Rolland, G. Pruneri, S. Kreutmair, I. Pallavicini, M. Zobel, M. Cinquanta, S. Minucci, C. Gomez, E. Santos, A. L Illert, G. Scita. - In: LEUKEMIA. - ISSN 0887-6924. - 32:3(2018 Mar 01), pp. 820-827.

Tumour-derived PGD2 and NKp30-B7H6 engagement drives an immunosuppressive ILC2-MDSC axis / S. Trabanelli, M.F. Chevalier, A. Martinez Usatorre, A. Gomez Cadena, B. Salomã©, M. Lecciso, V. Salvestrini, G. Verdeil, J. Racle, C. Papayannidis, H. Morita, I. Pizzitola, C. Grandclã©ment, P. Bohner, E. Bruni, M. Girotra, R. Pallavi, P. Falvo, E.O. Leibundgut, G.M. Baerlocher, C. Carlo-Stella, D. Taurino, A. Santoro, O. Spinelli, A. Rambaldi, E. Giarin, G. Basso, C. Tresoldi, F. Ciceri, D. Gfeller, C.A. Akdis, L. Mazzarella, S. Minucci, P.G. Pelicci, E. Marcenaro, A.N..J. Mckenzie, D. Vanhecke, G. Coukos, D. Mavilio, A. Curti, L. Derrã©, C. Jandus. - In: NATURE COMMUNICATIONS. - ISSN 2041-1723. - 8:1(2017 Sep 19).